Teaching about Bias, July 7, 2015





The current investigation (Introducing this issue):


Some ideas for teaching kids to read critically, recognize possible bias, and understand that no one narrative can ever give a complete perspective…

Also, some really excellent links to materials for teaching Shakespeare— found or shared with me after I thought I'd finished with the topic!

(Please excuse me for changing the topic of this newsletter from what I announced last month. My family is going on a special vacation, and I have not been able to finish the materials I wanted to include in the 'cognates' issue. They are almost complete, but time has run out. They should be ready next month.)



Helping Students Recognize Bias


Even the most 'objective' textbook authors have to choose some topics to discuss in depth and others to slight or omit. Our perspectives will invariably show in our word choices as well.

Different perspectives are part of what makes life interesting—but it's important for students to realize that other viewpoints are possible. Here are some ideas for helping them.

An NPR Article describes the work of a few young Pakistanis and Indians to give students in their countries a chance to read history from the 'enemy' perspective, as well as their own.

They realized they had never learned anything about the perspective of the other nation, and decided it was important for young people from both nations to understand-- or at least know about-- the other point of view. Their materials juxtapose (put next to each other) information on Gandhi, Jinnah, and others from the very different viewpoints of each country.

Here are some other interesting ideas from history teachers for ways to help students become aware of bias, and learn to read critically. Middleweb suggests an I-Chart for comparing the differences between two sources discussing the same event: the reasons they give for it, the people they discuss, reactions, results, and other differences.

They also talk about follow-up discussions to help students understand the implications of the differences.

In addition, they share a checklist for evaluating website bias: "Test before you trust."

History Tech suggests an exercise to raise awareness using four very different comments by Abraham Lincoln and two versions of a movie trailer for "Home Alone."

I especially like the Lincoln activity. Students in small groups get one of Lincoln's comments, without knowing it was from Lincoln or that other groups got different quotes.

Then they try to determine if the speaker was a racist, or pro- or anti-slavery. They are shocked when students in groups with different quotes come up with opposite answers.

What a way to show the importance of context, as well as the danger of uncritically assuming an understanding of the whole story after hearing just one version of it!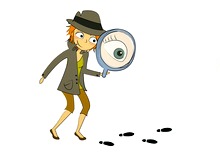 If you would like one or two somewhat-related vocabulary activities, try Words for Truth, Falsehood, and Error It discusses the shades of meaning, connotations, and implications of the words we use for describing truth or the lack of it. It has two short practice exercises. There's also a pdf version, accessible on the page.

Vocabulary for Violence has a quiz on the meanings of some of the words used to describe violence and atrocities. They're not pleasant reading, but important for understanding news reporting in English for those still learning the language.



Shakespeare Revisited—Again!

Just after finishing what I thought would be my last newsletter reference to Shakespeare, I found this fantastic lesson plan (with some great links, too!)

Great ideas for getting kids excited about the Bard.

She suggests starting small and visually. She gives ideas for teaching his poetry and includes a TED talk on hip-hop and Shakespeare, as well as a link to teaching Shakespearean insults. It's worth checking out…

Then Jen Maloney wrote that her students had used the Shakespeare idioms page (mentioned in the last newsletter) along with others while preparing to watch Romeo and Juliet .

"The kids wanted to share the following page as a thank you: Shakespeare Costumes+.

They thought that the page had great information and were hoping you might consider adding it to your list of resources...I know the kids would be thrilled to know they helped someone else."

That page has some interesting information about Shakespeare and Shakespearean language, and then an assortment of excellent links, including several for understanding Shakespeare's language and grammar.

I found Bardweb especially helpful. It gives "Tips for Making Sense" of Shakespeare's language, including his more flexible word order and his wild wordplay.

This looks useful too: a Shakespeare glossary.

A note if you get gmail: Have you missed any issues of English Detective? if you find English Detective in your Promotions box, you can move it to your Primary box (if you want) by clicking on it and dragging it there, then clicking Yes when asked if you want to always get it in the Primary box.

Coming in the next issue: Cognates: Language in Common

P.S. If you are not already getting English Detective, you can subscribe by completing the form here. (It's free!) Also, you can reach me by mail at 1752 Driftwood Drive, El Centro, CA 92243, USA.