English may be the world's greatest word borrower, freely selecting and altering (or not) useful words from every language it encounters. I found a number of fascinating examinations of English borrowing.

To me the most interesting was from CambridgeCoaching (It's quite short and well worth reading. Don't miss the first sentence!)

Grammarphobia also has a great explanation for why English has so many synonyms.

If you have time for more, try 15 English words we stole from Arabic. I knew or could guess some of them, but I never would have thought of 'mattress,' 'magazine,' or 'artichoke!' We didn't get them directly from Arabic, but via Spanish, Turkish, or Italian, often by way of France.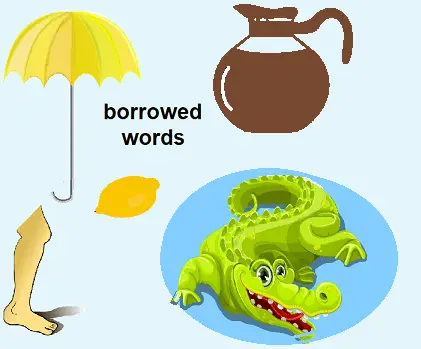 Practice Vocabulary


There's practice, as well as more information on cognates (words in two languages that are quite similar, usually because of a common origin) on the EnglishHints' page on cognates.

If you speak Spanish or teach Spanish-speaking students you might be interested in some cognate worksheets and other practice materials I just updated. (I started noticing the similarity of many Spanish verbs to the Latin roots of English words. It's of course not surprising that they're similar since those Spanish words came from the same roots.) The worksheets point out some of the common patterns that can make it easy to learn a lot of English vocabulary.

P.S. If you don't like to open links in emails, you can go to the EnglishHinks Back Issues page and open them there. It's https://www.englishhints.com/English_Detective-backissues.html


---
A note if you get gmail: Have you missed any issues of English Detective? if you find English Detective in your Promotions box, you can move it to your Primary box (if you want) by clicking on it and dragging it there, then clicking Yes when asked if you want to always get it in the Primary box.

If you are not already getting English Detective, you can subscribe by completing the form here. (It's free!) Also, you can reach me by mail at 1752 Driftwood Drive, El Centro, CA 92243, USA.