Reading Agatha Christie for pleasure, mental exercise-- & English-- #124
Have you read any of Agatha Christie's mysteries? I'm guessing you have, if you've read any fiction in English. Her detectives Hercules Poirot and Miss Marple are almost as well known as Sherlock Holmes, and many of her "closed room" mysteries are classics.

Besides, she wrote a LOT: 66 novels (romances as well as mysteries), a few plays, and a little nonfiction based on her travels in the middle East.

The BBC has a fascinating article on her, and especially on her influence on the rest of the world's ideas of British culture.

The authors say "Her works are seen as so easy to read, she's a favourite author of people learning English. Christie is also, by leaps and bounds, the world's most translated author…" ("By leaps and bounds" means by a very large number. 'Favourite' is the British spelling of what Americans call 'favorite.')

The BBC emphasizes her depiction of English character even more than it talks about the characteristics of her detectives, though it also looks at them. In fact, its main point about Hercules Poirot is that Christie uses him as a contrast to British characters as well as for his clever solutions to crimes.

"The podcaster Brobeck says that 'Miss Marple is essentially invisible.' While Christie's English characters often underestimate Poirot because of his flamboyant foreignness, they frequently dismiss Marple because of her gender and age. Like Poirot, Marple uses this as an opportunity."

So, both Poirot and Miss Marple have a real advantage in their work because criminals and other investigators are less likely to fear them or be on guard.

Two (or Many) More Perspectives on Christie
For some fun (and often surprising) facts about Christie, check out "8 Things You May Not Know" about Christie by biography.com

The Irish Times offers a very brief glimpse into Christie's thinking by the man who asked to go through her notebooks.

They also have a very long article giving contemporary mystery writers' opinions of Christie, how she influenced them, and their choices for her best works.

I read the whole article but finally realized it's too long to recommend. However, it was very interesting to note that MOST of these crime novelists read her in their teens (or before!), and she moved a number of them to choose mystery writing.

A few of them feel her characters are "cardboard" (standard or stereotyped rather than fully-developed individuals), but the majority still enjoy her books, admire her skill, and enthusiastically recommended a wide range of favorites.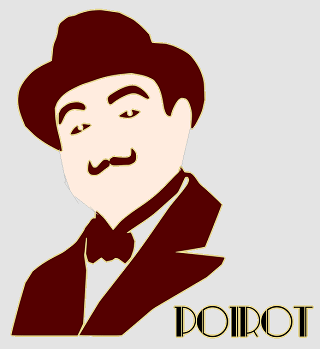 Detective Vocabulary
The best page I know for practicing detective vocabulary is Be a Word Detective. It suggests putting detection language into categories and then filling in the blanks in a gap-fill story about crime and investigation.

If you've been reading "English Detective" very long, it's probably obvious I'm fascinated by scientific and medical research as well as mysteries. (In fact, in college I did an independent study on the history of disease.)

A few years ago, I wrote some short articles for English learners on "The Impact of Disease in History," "Solving the Mystery of Yellow Fever," and "The Mystery of Scurvy," as well as some lesson plans for using them and some ideas for student investigations of major "Disease Detectives" like Louis Pasteur, John Snow, and Walter Reed.

Those lesson plans are available as "Medical Mysteries" or as individual lessons on the Reading Comp. Lesson Plans page,

I just finished making the same true stories and comprehension questions into downloads for individual study. (The first set was designed for teachers and for classroom use.) If you're interested, they're on the Reading Comprehension Worksheets page.

In the next several issues I hope to look at Earth Day topics: links between protecting wildlife and human welfare and innovation for a greener, better future.

Warmly,

Catherine Simonton, EnglishHints.com


---
P.S. If you don't like to open links in emails, you can go to the EnglishHinks Back Issues page and open them there. It's https://www.englishhints.com/English_Detective-backissues.html

A note if you get gmail: Have you missed any issues of English Detective? if you find English Detective in your Promotions box, you can move it to your Primary box (if you want) by clicking on it and dragging it there, then clicking Yes when asked if you want to always get it in the Primary box.

If you are not already getting English Detective, you can subscribe by completing the form here. (It's free!) Also, you can reach me by mail at 1752 Driftwood Drive, El Centro, CA 92243, USA.