Have you heard the good news about the huge drop in world poverty rates? There IS a real drop, but the truth is a little more complicated. This issue discusses two articles (& an optional TED talk) that analyze the changing poverty situation. Then you can read an explanation of charts and graphs and practice chart vocabulary.

A detailed article from the Economist starts with great news about how much global poverty rates have declined, but it adds that this improvement will be very hard to sustain. Bringing poverty rates down further will be slow, difficult work. The article also has some interesting graphs to study.

Politifact examines the accuracy of the claim that extreme global poverty has been reduced by 50% in the past few decades—and finds it half true. They point out the ways to look at such a claim, and the important details that may be omitted from the discussion.

Finally, if you haven't already watched it, Han's Rosling's TED talk about "The Best Stats" is worth the time. It covers a whole range of statistics on poverty, health, and other global trends.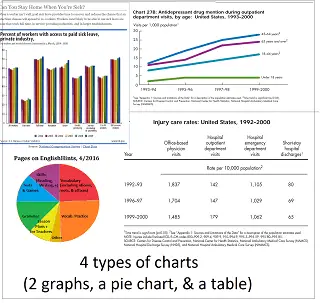 Chart & Graph Vocabulary


Here's a page that explains how to read charts and graphs, and demonstrates a lot of chart vocabulary (x or y axis, (steady, sharp, significant, major or minor) increase or decrease, trend, range, approximate, etc. It also suggests ways to practice.


---
A note if you get gmail: Have you missed any issues of English Detective? if you find English Detective in your Promotions box, you can move it to your Primary box (if you want) by clicking on it and dragging it there, then clicking Yes when asked if you want to always get it in the Primary box.

If you are not already getting English Detective, you can subscribe by completing the form here. (It's free!) Also, you can reach me by mail at 1752 Driftwood Drive, El Centro, CA 92243, USA.