The past few weeks I have been thinking about political language and reading or listening to a number of great speeches, both from the mid-to-late twentieth century and from the last few years. Whether you are learning or teaching English, I think these speeches can be useful as well as inspiring.

A lot of political discourse is not so inspiring, but it is important to understand in order to follow election news. So in this newsletter, I want to talk about both.

Political Language is a long page on EnglishHints explaining words important for political discussions: words like support, oppose, debate, contradict, distort, cooperate, and compromise. It also includes some political idioms, as well as links to two useful pages on Voice of America explaining many more idioms often used in debates or political discussions.

It has a very funny under-three-minute British video on easy ways to manipulate opinion polls, as well as a discussion of some frequent issues in American politics, and the American usage of "conservative" and "liberal."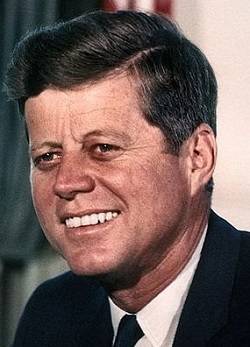 EnglishHints has had a long selection from JFK's first State of the Union speech made into a gap-fill to practice academic vocabulary. (Kennedy used a lot of words from the Academic Word List!)

His speech is also very interesting for the glimpses it gives into his thinking—the concerns behind the Cuban missile crisis and the Vietnam war.

This week I read several other presidential speeches and was impressed by the continuity of American foreign policy: from JFK (and Truman and Eisenhower before him) through Reagan, to a recent speech by Obama.

There have been lots of fierce foreign policy disagreements, but what Obama expressed in 2014 about the defense of freedom and the importance of keeping American commitments echoed what Kennedy had said in 1961 and Reagan in 1987. (I was surprised at the similarities!)

The U.S. Presidents on Berlin page has excerpts from two famous speeches by Kennedy and one by Reagan on Berlin and the wall, as well as a gap-fill activity to practice academic vocabulary and links to the complete transcripts, (plus the academic vocabulary page practicing words from Kennedy's first State of the Union address and the page with President Obama's speech on Polish freedom day. In that speech, Obama looked back to the year the Berlin wall fell, among other major events.)

Most of the speeches also have parts available on video, usually on YouTube, unfortunately for classroom use.

Will you be teaching or reading any political speeches this year, or sticking to the debate summaries in the news?

A note if you get gmail: Have you missed any issues of English Detective? if you find English Detective in your Promotions box, you can move it to your Primary box (if you want) by clicking on it and dragging it there, then clicking Yes when asked if you want to always get it in the Primary box.

P.S. If you are not already getting English Detective, you can subscribe by completing the form here. (It's free!) Also, you can reach me by mail at 1752 Driftwood Drive, El Centro, CA 92243, USA.