The current investigation (Introducing this issue):


This month I have both a confession (or two) and some exciting news. First the confession... I discovered that many visitors to EnglishHints are looking through the English Detective back issues, and it appears from the links chosen that many are teachers. One of my most popular links in the month before school was "How Children Learn." I realized with embarrassment that teachers might be counting on a link they can use. In fact, it leads to information aimed more toward parents of young children.

I'm still looking for authoritative articles on learning, but I did find a site with valuable information on reading research and how to encourage kids to read. I'm adding the link immediately below this introduction, because I didn't prepare vocabulary or any of the usual English Detective format this month-- I'll explain why below.

Anyway, I found the Scholastic site and especially the free download on reading research (at the top of the page) very useful: interesting and authoritative suggestions with research links for helping students with different reading challenges (boys, teens, ELLs, diverse learners, and reluctant readers) gain the benefits of extensive reading.

It also discusses and lists the research supporting those benefits: clearer thinking, increased comprehension, vocabulary, and fluency, and suggests ways teachers and parents can encourage kids to read more.

It's 152 pages, but half of those are research links, and it's well-organized, so it's possible to find just what you need right now and come back for more later. I had trouble putting it down...

Five stars for value -- and it's free! The webpage also has a series of very short videos with kids talking about why they love to read and downloadable free resources.

Here's the Scholastic page.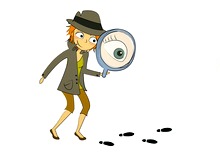 Now my news:

After several months of working on them every spare moment, I'm happy to announce I finally have worksheets available for download from EnglishHints, and I feel they could be helpful, especially to new ESL teachers or anyone who doesn't have access to a good textbook or lots of teaching materials.

For anyone who's interested, I'm giving the link to the page with the biggest bundle of worksheets, reading selections, word decoding clues, and games-- a combo packet that includes all the other materials I've been able to put together for teaching academic vocabulary, affixes, and roots.

This is the link to Academic Vocabulary Worksheets.

I hope to keep working on vocabulary worksheets, while also putting some more pages up on my neglected website and hopefully having a more varied newsletter again next month.

To every teacher and student just starting the school year-- best wishes on a very good year of learning and working together!

A note if you get gmail: Have you missed any issues of English Detective? if you find English Detective in your Promotions box, you can move it to your Primary box (if you want) by clicking on it and dragging it there, then clicking Yes when asked if you want to always get it in the Primary box.

Coming in the next issue: On Writing Well-- and Teaching Writing

In case you missed these: Earlier issues of English Detective have articles on a number of topics, plus practice with all 570 words from the Academic Word List. You can check them out with the link to the back issues page below (or find what words were practiced each issue here.

P.S. If you are not already getting English Detective, you can subscribe by completing the form here. (It's free!) Also, you can reach me by mail at 1752 Driftwood Drive, El Centro, CA 92243, USA.