Learning from Mr. Rogers
It's a nice change to read about a famous person who was just what he appeared to be; who helped children make sense of their feelings and the world and left a legacy of wisdom and kindness.

I was already nearly an adult when Mr. Roger's show came out, so I was not drawn to these articles by fond memories of his show. Instead, I found them fascinating and important for the help they can provide parents and teachers now. Mr. Rogers showed us how to help children work with others and cope with life—and was a wonderful example of kindness, respect, and a willingness to listen to others.

These articles give the same basic picture of Fred Roger and his contributions to American children and public television. I'm linking to three (of many more I read) because each makes some important points about Fred Roger's work and about the best ways to support children's emotional development.

Being Neighbors
The Greater Good website suggests seven lessons we (adults) can learn from Mr. Rogers about human relations and creating a better, fairer society. It gives a little more background about his personal life and values than the other two articles.

Helping Children Cope & Grow
NPR discusses how Mr. Rogers helped children deal with their feelings and with the unpredictable, sometimes scary world around them. It's a good reminder for those of us who have kids or work with them. It especially emphasizes his study of early childhood development and how teachers and parents can apply the same principles.

One memorable example was the 1968 episode in Mr. Roger's Neighborhood that helped children and their parents understand the news about Robert Kennedy's assassination. "It explored how to share your own feelings and answer children's questions and common concerns. It also showed how children process scary events through play."

As the article points out, adults still need help in explaining and reassuring their children as they learn about frightening events in the news.

Mr. Rogers taught children to "look for the helpers" in a scary situation: find the people who are trying to make things better.

'Freddish': Considering the World from a Child's Perspective
The Atlantic describes how the people who worked on his show joked that Fred Rogers had developed a new language, 'Freddish,' because he was so careful with the words he used. He reviewed every script to make sure its language would not confuse children and that it would teach kids a healthy way of dealing with emotions and experiences.

"…when one script referred to putting a pet "to sleep," he excised it for fear that children would be worried about the idea of falling asleep themselves." (When we talk about putting an animal to sleep, we actually mean killing it, but we don't like to speak about it so bluntly. To excise a phrase is to remove it-- from the script in this case.)

Although his helpers found 'Freddish' funny, anyone working with kids can appreciate that consideration for children's needs (and his awareness of the literal meanings of expressions we often use carelessly.)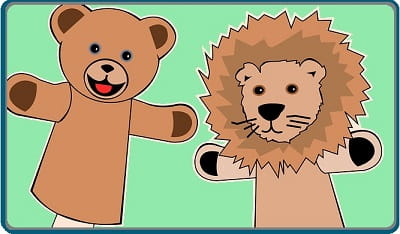 Vocabulary from These Articles
You will probably know most of these words, but they occur often in the articles. I thought it might help to give an explanation in case a few might not be familiar.

An audience is the people who are watching or listening to a performance (whether it's music, television, a speech, etc.) Now we often even include the people who read ("listen to" the ideas of) a book or article.

Emotions are feelings. Emotional development refers to children's growing ability to manage, understand, and express their feelings.

An episode is one day's segment of a longer T.V. (television) or radio show.

The media refers to news organizations: radio and T.V., newspapers, magazines, and online information sources.

Preschoolers are children of preschool age (about 2 1/2 to 5.)

A puppet is a figure that is designed to represent a person (or animal) and can be manipulated to act and speak almost as if it were alive. A puppeteer is the person who controls the puppets.

A script is the written form of everything that is said in a performance (a play, T.V. show, movie, or talk).

A topic is the subject of an article or show—what it is about.

Vulnerable means being at risk. Children are vulnerable because they do not have many ways to protect themselves.

---

Coming in the next issue: spies and spying.

Warmly,Catherine Simonton, EnglishHints.com

P.S. If you don't like to open links in emails, you can go to the EnglishHinks Back Issues page and open them there. It's https://www.englishhints.com/English_Detective-backissues.html

A note if you get gmail: Have you missed any issues of English Detective? if you find English Detective in your Promotions box, you can move it to your Primary box (if you want) by clicking on it and dragging it there, then clicking Yes when asked if you want to always get it in the Primary box.

If you are not already getting English Detective, you can subscribe by completing the form here. (It's free!)

Also, you can reach me by mail at 1752 Driftwood Drive, El Centro, CA 92243, USA.