The current investigation (Introducing this issue):


How can we help students get the most value from the reading selections we use in class? I remember being very impressed at a CATESOL conference by the suggestions we heard about choosing texts our students would want to read and then "recycling" them for second and even third uses, with a different purpose for reading each time.

This would give students a chance to get really familiar with the material so that they could really learn the vocabulary and notice features and implications they missed the first time, while struggling just to understand the basic idea. (It also saves paper and teacher copying time!)

The two articles with links below both suggest some details about how to do this. The first gives the general theory, using a 'text as a vehicle for information' (TAVI), as a 'linguistic object' to demonstrate a grammar or vocabulary point (TALO), and as a 'springboard for production'-- a task-based activity (TASP).

The second article, also from the British Council, demonstrates a great motivational strategy to introduce a TAVI reading. (It links to three follow-up articles on TALO and more specific strategies for TAVI and recycling the text.)

The third link is to my new Reading Comprehension Worksheets page, which includes a packet of readings, comp questions, video links, and activities related to the history of disease: how people have looked for causes and treatments for some of the most deadly and baffling ones.

It includes my attempt at the curiosity-stimulating warm-up activity recommended in the 2nd British Council article. (It also has a group webquest project with a choice of medical "detectives" to study, then follow-up student presentations-- a TASP project. I didn't try TALO with these readings, but hope to in the future.)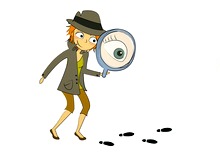 Getting the whole story


If you have an interesting article or other reading selection at a good level for your students, make the most of it! Have them read it once for the main idea, again to answer more-detailed or critical-thinking questions (TAVI), and again to examine some aspect of grammar, culture, word connotations, or any features that are outstanding in it(TALO).

Then follow up with an activity that builds on what your students have learned (TASP). Here's a more complete explanation of the approach.

A great way to start a TAVI lesson is by asking interesting questions students will need the text to answer. That's one of the ideas for getting the full benefits from a reading selection shared in the 2nd article. (His example using an article on sharks certainly demonstrates the motivational value of these questions!)

His follow-up article on using texts to teach grammar is also very interesting. I found the last two articles in his series a little less useful, but all links are given at the end of this one, in case you want to see for yourself.

Also, check out EnglishHint's new Reading Comprehension Worksheets page. Right now most of the free worksheets are High Intermediate up, but I hope to add more Intermediate and High Beginner soon. (You might recognize a few from earlier newsletters.)

I'm very happy with the readings and worksheet packet I just finished on Medical Mysteries. As mentioned above, I tried the stimulating-question lesson introduction suggested in the 2nd British Council article.

If you're interested in seeing it, but don't care to buy the packet ($4.90) just email me ("Reply" to this newsletter) and I'll send the intro questions, the article (on the impact of disease in history) that they refer to, and the extended follow-up questions. (I think there ought to be some benefit to being a loyal subscriber!) I'd love any feedback or constructive criticism on either the article or the questions!

Click here for Reading Comprehension Worksheets.

A note if you get gmail: Have you missed any issues of English Detective? if you find English Detective in your Promotions box, you can move it to your Primary box (if you want) by clicking on it and dragging it there, then clicking Yes when asked if you want to always get it in the Primary box.

Coming in the next issue: Are You Getting Enough Sleep? Readings for students on why it matters

In case you missed these: Earlier issues of English Detective have articles on a number of topics, plus practice with all 570 words from the Academic Word List. You can check them out with the link to the back issues page below (or find what words were practiced each issue here.

P.S. If youare not already getting English Detective, you can subscribe by completing the form here. (It's free!) Also, you can reach me by mail at 1752 Driftwood Drive, El Centro, CA 92243, USA.