Why Writing Skills Matter
For those who would like extra writing tips and practice, I'll be sending a short series of emails on English Writing Hints. I'm including a link to the sign-up page-- and a sample of what the writing emails will be like.

Below the picture is a link to a related article. (I had a second article I hoped to share on teaching writing and other skills, but the link is no longer working.) The working link is to an article on writing and why it's an important job skill to "future-proof your career." There's no new vocabulary this month. Neither article used important words you might not know.

Could You Use Some English Writing Hints?
On the first Tuesday of each month starting in Nov., I'll be sending out English Writing Hints instead of English Detective, at least for several months. (English Detective will still go out once a month, on the 3rd Tues.) Check out the page on Improving Your English Writing to sign up if you're interested.

(There's also a free gift when you sign up: a downloadable version of the Revision and Proofreading Checklist. It's useful to help you check your writing before you send it off.)

A Sample Writing Tip of the Month:
Plan before you write! Even if your time is limited, you'll use it better if you have planned first. Think about your main idea and how you will support it.

Consider your audience. What do they already know? What do they care about?

For more details, see Learn to Write English. See section 1 (& part of 2) See also the paragraph on planning in TOEFL or IELTS Essay Sample. Learn to Write English also has more on the importance of revision & proofreading (section 3-4.)

A Sample Writing Prompt
Here's the kind of writing prompt you might get for a TOEFL or IELTS Essay task 2.

"The Internet provides enormous amounts of information, good and bad. What are some ways Internet users can identify reliable information and avoid using poor-quality information to make decisions? Support your answer with relevant examples."

Unlike in future issues of English Writing Hints, I'm offering a public link to a sample you can compare your essay with. (I also want to apologize to anyone who's already tried writing an essay for it. I didn't have time to write a new essay.) See the second half of the TOEFL or IELTS Essay Sample page linked above.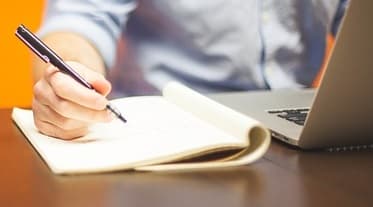 Another View on Why Writing Skills Matter
This article from Forbes points out the value of being able to write well. No machine can take the place of a thoughtful writer. There's a shortage of writing skills in the workforce as well.

The author suggests three simple steps that can help you improve your writing. 1. Think about the needs and interests of your readers before you write. 2. Be willing to learn from feedback. 3. Keep your writing simple. Check the whole article out for useful details.

Probably coming in the next issue: another look at Orwell's 1984. (I can't think of anything scarier for Halloween!)

Warmly, Catherine Simonton, EnglishHints.com

P.S. If you don't like to open links in emails, you can go to the EnglishHints Back Issues page and open them there. It's https://www.englishhints.com/English_Detective-backissues.html

A note if you get gmail: Have you missed any issues of English Detective? if you find English Detective in your Promotions box, you can move it to your Primary box (if you want) by clicking on it and dragging it there, then clicking Yes when asked if you want to always get it in the Primary box.

If you are not already getting English Detective, you can subscribe by completing the form here. (It's free!)

Also, you can reach me by mail at 1752 Driftwood Drive, El Centro, CA 92243, USA.