The current investigation (Introducing this issue):


In an ESL classroom, games aren't just "fun and games." They're important tools for language learning, helping students relax and forget their embarrassment and self-doubts as they focus on the game objective— enabling them to reach their language objectives almost as a side benefit.

Games contribute to a positive classroom environment as well as reducing tension, providing needed breaks, and making necessary repetition less tedious.

The good news is that there are lots of online resources suggesting simple, low-prep classroom games, as well as lots of online games for students who want extra practice.

When I started looking for English-learning games my students could play on the computer 12 or 13 years ago, there wasn't much to get excited about. Now the problem is sorting through all the sites to find the best. I hope this newsletter will help.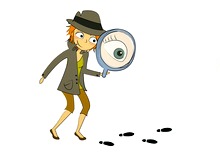 Getting the whole story: a few of the best sites for ESL Games


One of the best websites for ESL teachers is the British Council's Teaching English, just as their Learn English has some of the best online games for ESL students.This is their index page for classroom activities.

Here is the games index page for students.

Here is one other great vocabulary games site for students.

This Dept. of State pdf has a large number of useful game ideas for teachers. It's well worth downloading. You can look through it when you need a quick new game. (It's rather long, but well organized, so if you check it out quickly, you'll know where different types of games are when you need them.)

I've been working on the game pages in EnglishHints a lot recently. Most of the online games are now interactive, and I have several more memory games I hope to put up this week—on irregular verbs.

I just finished a couple of pdf game packets to practice with common irregular past tenses too. They're on a new page: ESL Classroom Games.

I want to do a few more games to practice the perfect tenses and irregular past participles soon.

A note if you get gmail: Have you missed any issues of English Detective? if you find English Detective in your Promotions box, you can move it to your Primary box (if you want) by clicking on it and dragging it there, then clicking Yes when asked if you want to always get it in the Primary box.

Coming in the next issue: Great graduation speeches: get students talking about their future

In case you missed these: Earlier issues of English Detective have articles on a number of topics, plus practice with all 570 words from the Academic Word List. You can check them out with the link to the back issues page below (or find what words were practiced each issue here.

P.S. If youare not already getting English Detective, you can subscribe by completing the form here. (It's free!) Also, you can reach me by mail at 1752 Driftwood Drive, El Centro, CA 92243, USA.