#121 Your Vocabulary Mastery Checklist + Suggestions for Teachers & Learners
This week I wanted to send a free gift to thank you for being an English Detective subscriber. (It's just for subscribers, so I've removed that link from the back issues.)

I've added a couple of other suggestions related to important vocabulary strategies.

If you want to get a headstart on your English vocabulary this year but don't have a lot of time, check out Introduction to Roots & Affixes that demonstrates how knowing the uses of a few prefixes, suffixes, and roots can build your word knowledge quickly. (It's no longer a free offer, but it's still worth it. There's a shorter, very inexpensive version just below it.)

There's also a link under "Root Vocabulary Practice" to an EnglishHints page on English words from the Latin root ponere and its prefixes. (It's also a good demonstration of Strategy 2 & 3 from the checklist, and you don't need to sign up or pay for it.)

If you speak (or teach students that speak) Spanish, EnglishHints' pdfs on Spanish-English cognates might be even more helpful.

See for yourself how much they can help in learning English vocabulary if you speak Spanish (or teach English to Spanish-speaking students.)

As always, there's a money-back guarantee for the first month if you don't find it well worth your time & money.)

Research on Habits that Help (or Hinder) Language Learning
We still have links to a few articles in this issue (so you won't miss out on the reading English Detective promises.) Two (+) are for ESL teachers, since I found a couple of great article on helping students master academic vocabulary.

The other is on habits of successful language learners. (It's not directly related to the 'vocabulary mastery' theme of this issue, but I didn't find any interesting vocabulary-learning articles that add to what I've already shared, or what's on the checklist.)

This article reports Duolingo's research on what works for language study in general. Its suggestions aren't new but might be useful if you haven't got a consistent study plan yet. It also has a number of charts to study (good if you're preparing for the IELTS exam or like science articles, less interesting if you prefer stories) and it's a bit of an advertisement for Duolingo, but it does give some well-researched conclusions for language learning.

Its basic recommendations are not surprising: for long-term language learning (just as for losing weight), it helps to study consistently, frequently, and for fairly short periods, and to review what you've already learned regularly. (In English we have a proverb: "Slow and steady wins the race." It's the old Aesop's fable of the persistent tortoise winning a race against the faster hare (rabbit.)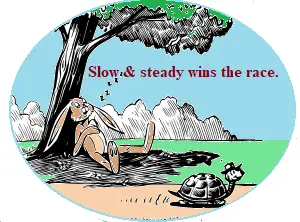 How a California School District Got Exceptional Results with their ELLs
Language Magazine tells a story of success with long-term English learners that is especially impressive to me since I've taught in districts not far from there and have seen some of the challenges first-hand.

The article tells how the Moreno Valley Unified School District used a grant to provide intensive, carefully-structured help to middle school long-term English learners and their families. They were able to "reclassify" a high proportion of them as "fluent English proficient," so that they could enter high school ready, even for college-prep classes.

The article goes into detail about Dr. Kate Kinsella-- the consultant they hired-- and her approach to curriculum, teacher training, and work with the students' families. (They were all volunteers who had opted into the program-- a key component in its success.)

If you're interested in Dr. Kinsella's methods, you could check out her (expensive) book on Amazon, or find a free, short version that still provides detained guidance here.

Too Funny (& Useful) to Skip
I hesitated about adding a second article for teachers, but I think anyone, teacher or not, who has tried to understand a different language will identify with the beginning of this Colorin Colorado article.

"In college I enrolled at a university in Spain — all courses were taught in Spanish. My comprehension of my courses went something like this… (translated into English and the accompanying gibberish I heard.)

"So it is obvious from the way qyuekfksno, that the Greco style was qyueuoammo. If you look closely you notice xawoeirje and it reminds you of woieysksdufe."

"…I struggled to make meaning of the language, but I could not comprehend the professor's points. I was able to correctly answer in Spanish when asked a question such as, "What is a characteristic of the Greco style?" I would answer, "It is qyueuoammo." I knew this because I had "qyueuoammo" written in my notes, but I still had no idea what the word meant.

"I believe many ELL students have a similar experience in their classes, and that many of them are able to manipulate the English language to supply a correct answer, but still not understand the content. This does not become apparent until the student fails the unit test." (Bolding added.)

Can you identify with the problem? She goes on to suggest ways to help students actually understand and use the new academic vocabulary (not just asking if they understand (!), but having them illustrate the words and use them in answering questions, completing sentences, labeling, or group work.)

She also suggests assessments that allow students to show what they have learned even if their writing or test-taking skills are weak.

There's an extensive resource list at the end of the article. I was impressed with the usefulness of the resources I checked!
Root Vocabulary Practice
You can practice prefixes and learn lots of English words by studying the Latin root ponere.

I would love to hear which of these resources were useful to you (or which weren't, and why.) You can just click on Reply at the end of this email. It'd be a great help!

Thanks!

--Catherine Simonton, EnglishHints.com


---
P.S. If you don't like to open links in emails, you can go to the EnglishHinks Back Issues page and open them there. It's https://www.englishhints.com/English_Detective-backissues.html

A note if you get gmail: Have you missed any issues of English Detective? if you find English Detective in your Promotions box, you can move it to your Primary box (if you want) by clicking on it and dragging it there, then clicking Yes when asked if you want to always get it in the Primary box.

If you are not already getting English Detective, you can subscribe by completing the form here. (It's free!) Also, you can reach me by mail at 1752 Driftwood Drive, El Centro, CA 92243, USA.