Writing in English: What You Need to Know
I've been thinking about what skills are most important for writing in English. Writers need a basic grasp of English sentence structure and grammar, so their readers can understand their message. They also need to know who they are writing for (their audience) and why they are writing (their purpose).

To achieve their purpose, they need to organize the information, evidence, and stories they present in an easy-to-understand and convincing way, whether their purpose is to convince their audience of something, to sell, to teach, or to entertain.

Making a plan or outline is an important first step for most writing. Planning requires choices about what information to present and the order to present it to successfully convince, sell to, teach, or entertain the selected audience. Such a plan makes research and writing much easier. It even helps during revision, providing a way to check that the important points have been included and clearly linked together.

This English Detective issue links to three articles on writing in English. (Two are written for ESL teachers but have real value for English learners as well.) There's also a link to an excellent free grammar checker. If you write much, this free tool could be a game-changer!

How to Write in English: Tips & a Free Tool
Off to Class provides lessons and help to ESL teachers, but almost all of this article is useful for anyone trying to learn to write in English. (If you're not a teacher, skip the last section—a two-part introductory writing lesson he has found useful.)

He talks about why it's important to teach (or learn) English writing skills, the type of writing to teach (academic, if students will need writing for tests or university studies), and most importantly, important elements of good writing.

Be sure to check out the free Virtual Writing Tutor tool he recommends. (It's helpful for teachers as well as students!) It provides several kinds of proofreading and grammar checks, as well as an Error Correction game to improve your proofreading, suggestions for better word choices, and some recommendations for students preparing for the IELTS or TOEFL exams.

Essay Organization & Prompts to Guide Your Practice
I looked hard for a good writing tips summary but was disappointed. If you would like a summary or review of the form and necessary sections of an English essay, check out EnglishHints' Essay Organization page. It's not as entertaining as I would like, but it's important information if you aren't sure what an English teacher (or a grader for an exam like the TOEFL or IELTS) expects in an essay.

The final resource gives some interesting essay prompts to use in ESL classes-- or to try for yourself if you need to practice writing short essays.

A prompt tells you what to write about. Any essay will be graded partly by how well the writer responds to the prompt given, so it's worth practicing with several of them. Make it a timed practice if you're preparing for a test with a time limit. You can do a more complete error check and revision afterward.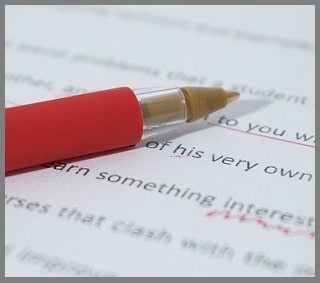 Essay Vocabulary Practice
Audience, writer's purpose, and writing prompts have already been explained above. Other key vocabulary is explained on the Essay Organization page and can be practiced with a new crossword. Its answers are here.

A few more useful words you might not know:

To eliminate is to get rid of (dispose of) something. Eliminating a problem means it's gone—no longer something to worry about.

Features are important characteristics of an object. (We often talk about the features of a product—especially the parts that provide benefits to potential users.)

To focus is to put all your attention on one thing. (Focus can also be used as a noun. The adjective is focused.)

Proficiency is skill in a certain area. A proficient writer consistently writes well, and is able to handle complex writing tasks.

A score is a number someone receives on a test or essay to show how well they did. It's like a standardized grade. For example, on the IELTS exam an averaged test score of 6.5 is fairly good; many universities require a 7 or a 7.5, and an 8 is excellent.

Do You Have Questions about English Writing, or an Essay You'd Like Checked?
I've been thinking about offering some kind of writing tutoring and/or proofreading help. Right now, I would like to figure out what service would be the most helpful. I'd also like to say 'thanks' for subscribing to English Detective.

So I thought I could make a special offer, at least for the first people who reply to this newsletter (or use the Contact Me form on EnglishHints if that works better): a free Skype or Zoom session with me to discuss your questions about English and writing, or a review of a page you have written (grammar corrections and suggestions for clearer, more effective English.)

So, if you have writing questions or an essay, proposal, web page, etc. that you would like me to check, please reply or contact me this week. (I'd also be interested in any suggestions you have, even if you don't need personal help!)

Warmly,

Catherine Simonton, EnglishHints.com

P.S. If you don't like to open links in emails, you can go to the EnglishHinks Back Issues page and open them there. It's https://www.englishhints.com/English_Detective-backissues.html

A note if you get gmail: Have you missed any issues of English Detective? if you find English Detective in your Promotions box, you can move it to your Primary box (if you want) by clicking on it and dragging it there, then clicking Yes when asked if you want to always get it in the Primary box.

If you are not already getting English Detective, you can subscribe by completing the form here. (It's free!)

Also, you can reach me by mail at 1752 Driftwood Drive, El Centro, CA 92243, USA.