Basic Academic Vocabulary 
It's important for English Language Learners to understand basic academic vocabulary. They must recognize the exact meaning of writing instructions and test prompts to know what they're expected to do.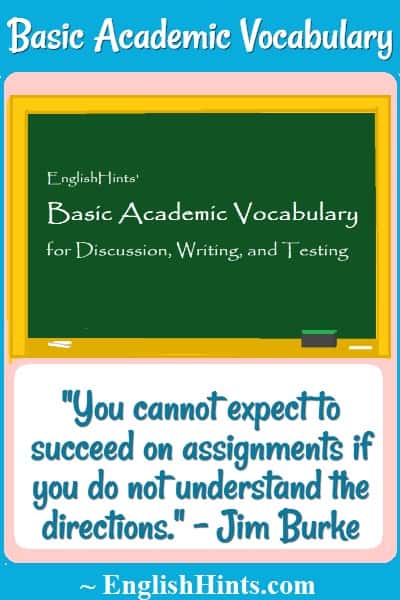 (As Vocabulary.com points out, quoting Jim Burke, "You cannot expect to succeed on assignments if you do not understand the directions." 
Burke's A list helped guide my choice of the most important words to teach explicitly.)
Understanding basic academic vocabulary will also help students' reading comprehension and class participation. 
The lessons in this packet show the ways about 30 important verbs (and related nouns and adjectives, as well as a few lone nouns or adjectives) can be used.
The words appear first in short texts about the scientific method and essay writing.
Then students practice them several times. They read example essays and complete task cards and a crossword. That lets students see them in different contexts and start to use them.
Key Vocabulary Introduced

from the Scientific Method essay: analyze (including analysis & analytical), conclude/ conclusion, determine (etc.), evaluate, identify, interpret, predict (plus bias, evidence, and valid– not on cards).
"Sharing Ideas" gives the most basic verbs for instructions: demonstrate, explain, illustrate, describe, respond, integrate, develop 
The comparison essay adds: compare, contrast, similar, distinguish.
"Essay Organization" demonstrates: organize, consequence, significance, persuade, argue, support, oppose, thesis, specific, transition, summarize, 
"Transitions" practice: access, 
& from the essay on Consequences/Proofreading practice:  imagine, imply (+ related practice with infer), & transform. 
You will need Adobe or another pdf reader to download this pdfs. If you do not have Adobe Reader you can download it, free, here.
Basic Academic Vocabulary Lessons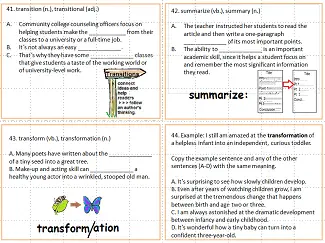 sample task cards to practice vocabulary
Duration: about a week and a half (or more if you want students to write more than one essay. (There are links to some fantastic lessons for helping English learners learn to write persuasive essays.)
These lessons can help ELLs ease into essay writing. They provide an explanation of English essay structure and several examples. Students also practice transition words and proofreading before they need to write much.
Some of the Common Core standards addressed: CCSS. W8, 2 & 2c., 8.5, 9-10.2c & 5; L.8.4a, & L.9-10.4a.
Contents
Teaching Suggestions pg.3-6
Scientific Method 7-8
Scientific Method Quiz 9
Vocabulary Notebook Template- 10
Sharing Ideas: Talking vs. Writing- 11
Comparing Apples & Peaches- 12
 Essay Organization -13
Types of Transitions-14
Practice Transitions with a Comparative Essay: Advantages and Disadvantages of Online Learning. (You might want to point out this could also be considered a persuasive essay, as it takes a definite point of view.)-15
3-page Revision and Proofreading Checklist -16-18
Practice with Proofreading sample essay on Unintended Consequences. (This includes the unrevised essay as an example. Then students can work on the revised essay that still needs proofreading.)—2 pgs each 19-22
Optional Graphic organizers:
--Sample Essay Planning Template-23
--Venn Diagram-24
Task Cards, pages 25-35
Crossword-36 
Vocabulary Check (this could also be used as a pre-assessment, if you have some students that may not need most of these lessons.) -37
Answers:
Scientific Method Quiz Answers-38
Transitions Practice (Advantages and Disadvantages of Online Learning) Answers-39
Corrected (proofread) revised essay on the bomb with essay parts and transition words marked and a short example of a summary- 40-41        
Task Card Answers[7 pages]-42-49
Crossword Answers-50
Vocabulary Check Answers-51 
Satisfaction guaranteed. (See yellow box below.)
Download it now for $12.50.
If you don't need the task card practice, see Basic Essay Vocabulary (for Classrooms)  on the English Essay Writing Practice page, $8.00. It includes the lessons that demonstrate the vocabulary but doesn't give all the word forms and gap-fill practice.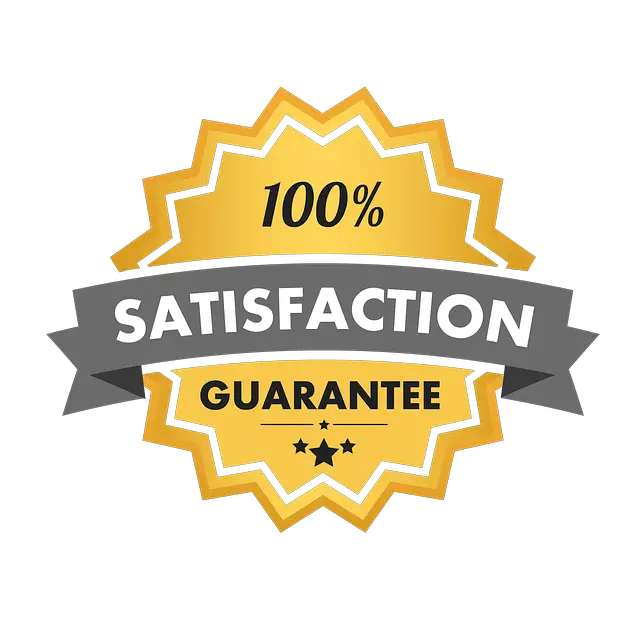 Please contact me if you have any problems or questions. If you are not happy with any worksheet, contact me for a full refund (or a credit plus 10% on another packet if you prefer.)
If you find the worksheet helpful please take a moment to share that information with others and let me know. (You can contact me here.)
Home > ESL Worksheets > Basic Academic Vocabulary.