Develop advanced communication skills in English 
Do you need advanced communication skills in English? Once you're using English at work, you no longer need much of the basic English instruction on the Internet. (You also won't need half the pages on EnglishHints.) 

Instead, your English needs have grown more individualized. They're based on your particular situation and knowledge gaps. You need specific help for your current problems rather than one-size-fits-all lessons.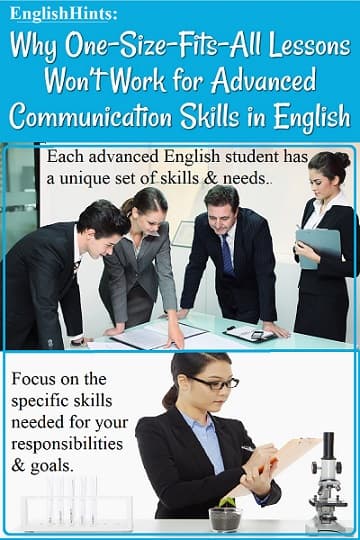 I've been working on personalized, advanced lessons for several years.
If you are interested in working with me directly, see the last half of Develop your English Speaking Skills for information on my one-on-one and group coaching programs.
I also have a 30 Days to Better English course for professionals. It has two versions: self-study with group support & Live Question & Answer sessions, or small group lessons with some self-study videos & practice as well. It will be available starting early fall 2021. 
On this page I'd like to direct you to some of my pages that may help, and to other resources my students have found useful.

If you have specific questions about your own needs, I can help with those too. (I've been studying what's available online for teaching and learning English for well over ten years.)
You can leave a message on the contact form at the bottom of the page. I'll be glad to answer—or get on a quick call if that would work better for you. Just let me know.
Improve Your Professional English
If you're in business or work as a professional, check out Develop your English Speaking Skills or Master Business English. Do you need to persuade a customer or your boss of the value of your suggestion? See Why the Right Word Matters and How to Change Someone's Mind. 
Starting in the early fall of 2021,  will be offering a course on the English skills I have found many professionals who aren't native speakers need. See 30 Days to Better English for more information. (Or sign up if you want to be notified when it's about to go "live.)
It teaches the same skills and vocabulary I usually teach one-on-one, but it is less expensive and you can work at your own pace. It includes "live" Question & Answer sessions with me each week and the option to add a coaching call if you want direct help from me on some aspect of it.

Advanced English Vocabulary for Professionals
You probably won't need help with vocabulary used in your own profession. You might want to review some vocabulary common across the professions, though. Most of these pages have practice exercises. Some ideas:

All those pages include practice exercises after providing some explanations. You'll know many of the words, but a review might help-- and any words you don't know are likely to be relevant to you. 
If you like to do crossword puzzles, I have quite a few. Use them to practice hundreds of the words important in professional and academic situations.
They're easier than most crosswords for native speakers because I give a list of the words used. (That means you don't need to think of hundreds of possible words to complete them.) They're downloadable and printable, and all have answer sheets.
Advanced Communication Skills in English: Reading, Listening, & Writing
(In case you missed it, for speaking see Develop your English Speaking Skills.)
Get double value for your time online in English. Combine your reading and listening practice with professional and personal growth. Besides trying professional journals in your field, you can get article ideas on Reading Articles. I try to find thought-provoking articles on different subjects each month. For other ideas see English Listening & Reading Comprehensive Exercises (the intermediate or advanced level suggestions for each.)
For ideas as well as listening practice, see TED talks. (They're usually under 20 minutes, on various high-interest subjects.) This site reviews interesting science podcasts. (They're for the general public, not researchers, but it's a good way to follow what's going on in other fields.
The first podcast they reviewed, Science VS, also has a short version with talks just 8-14 minutes or so. A bonus: listen to a lady who knows her science and shares it with enthusiasm and a strong British accent.
For help with professional writing, see Learn to Write English. In its last paragraph I also link to two very useful free tools to help you revise your work and check for grammar mistakes. Transition Words not only reviews the uses of these important words but also provides practice choosing which to use. 
(Grammarly has a level that isn't free, but the free level is quite useful. I use it myself to check for typos, doubled words, and simple mistakes that can be easy to overlook.) The Revision & Proofreading Checklist is a review of important issues that could help you, too.
For Health Care Professionals
Medical English has resources and links to information useful for health professionals. It links to pages on the grammar for giving advice, with examples from health care settings.
There's also a link to the excellent English Health Train curriculum. I used it to teach English to nurses hoping to work in the U.S. Many of their materials would also be work for self-study. I highly recommend it!
The page also has several links to medical terminology pages. One might be of interest to other professionals as well. Medical Vocabulary discusses the English names for various professions, diseases, tests & treatments. It's a good overview of areas you don't work in, in which you might sometimes be unsure of the English word involved.
Home> Advanced Communication Skills in English
---
Didn't find what you needed? Explain what you want in the search box below. (For example, cognates, past tense practice, or 'get along with.') Click to see the related pages on EnglishHints.