Practice Using Transition Words
Transition words hold writing together. They help readers understand the connections between ideas or events. They explain the author's thinking and show the path to his/her conclusions. That's why it's important to understand their meanings and use.
Types of Transitional Words (with examples)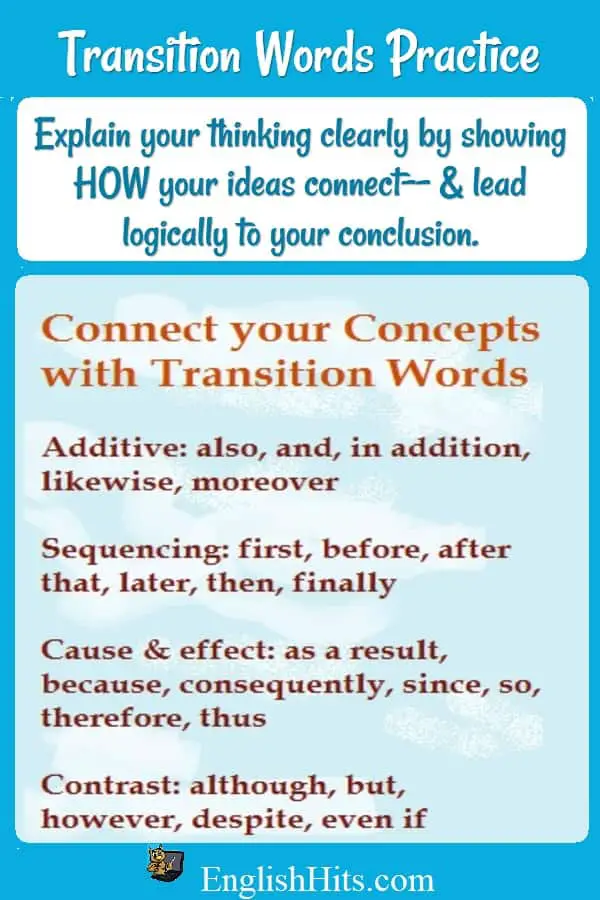 ·       Additive words show a continuation or extension of the author's point: also, and, for example, furthermore, in addition, likewise, moreover
·       Sequencing words show the order of events: first, second, third (etc.), before, after, after that, later, next, last, finally
·       Cause and effect words show causal relationships: as a result, because (of), consequently, it follows that, since, so, therefore, thus
·       Contrast words indicate a different perspective, a modification, or even disagreement with what was stated before: but, however, on the other hand
·       Some contrast words warn the reader that what follows is not the whole story, but an exception.: although, even though, despite, even if, in spite of, though, while
Two notes about the last group above: These words are often used to admit that an opposing argument has some truth before showing that other factors are more important. Most of these words mean the same thing, though they fill different places in the sentence.
Prepositions like 'despite,' 'in spite of, ' and 'regardless of' are used before a noun phrase. Adverbs like 'although' precede a clause (with both subject and verb.)
However, 'even if' has a different meaning. It does not concede that something is true, but states that what follows applies whether or not the 'if' clause is true. Examples:
·       Even though she was tired after work, Mary always cooked dinner for her family. (She was always tired, but she cooked anyway.)
·       Even if she was tired after work, Mary always cooked dinner for her family. (Sometimes she was tired and sometimes she wasn't, but in either case she cooked.)
Practice Connecting Words in this Essay
Use the words at the top or bottom of the essay to fill in the gaps  (blanks) in this essay about online learning. (Remember to capitalize the first words of sentences and to check your spelling.)
Several blanks have more than one possible answer. Any of those will be marked correct. In your own writing, remember to vary your words, rather than repeating the same word each time that it could possibly be used.
(The words are repeated in the box below the essay so you can see them from the last paragraphs as well as at the beginning.)
Advantages and Disadvantages of Online Learning
Choose from: also, although, because, but, even, first, however, in addition, moreover, similarly


also, although, because, but, even, first, however, in addition, moreover, similarly
After trying to fill in all the gaps and checking your answers, you can see the complete essay (with all possible correct answers underlined in it) here.
If you want more information, there's a much more complete list of transition words on MSU's website. For more examples of their use, see the (gap-fill) essay in Conservation Terminology. For the less common transitional words used in the Academic Word List, see Linking Words in the AWL.
Home> Learn to Write English > Transition Words.

---
Didn't find what you needed? Explain what you want in the search box below. (For example, cognates, past tense practice, or 'get along with.') Click to see the related pages on EnglishHints.