A Workshop on Preparing for a job Interview in English

Are you thinking about or preparing for a job interview in English? It's a bit scary, but there are definitely things you can do to relieve the stress and give yourself the best chance possible.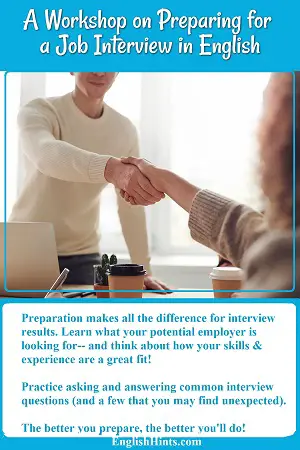 The better prepared for the interview you are, the less you need to worry. Here are some interview prep hints that can help.

1. Review and update (or write) your resume. 
2 Find out what you can about the company you are applying to (including its work culture, expectations, and even an appropriate outfit for the interview.)
Also learn what you can about the position you want and what skills, attitudes, and experience the interviewers are likely to be looking for. 
3. Think about your experience and what is most relevant to the position you're applying for.
4. Also consider how you could answer the most common interview questions, as well as some more difficult questions. (Many American interviewers like to see how you react to questions that you might not have practiced.)
Common Questions to Practice when Preparing for a Job Interview 
Here are some common types of questions you should be ready to answer. Remember, your big goal is to show that your skills, experience, and attitudes make you a great fit for the job and an asset the company needs. Your answers need to make that clear.
• Tell me/us a little about yourself. (Again, briefly mention your most relevant skills and experience, and show your work ethic and cooperation in the stories you tell as you answer the next questions.)
• Why should we hire you?
• What is your greatest strength? 
• What's your greatest weakness? (Be prepared for this one. Be honest about yourself, but you don't have to mention the one that would hinder you most in the new position. Also have an example or two to show how you are working on it.)
• What special skills can you contribute to our team?
• Tell about a goal you achieved (or talk about a goal you weren't able to achieve.)
• Describe a time when you had to deal with conflict at work, and how you handled it.
• Discuss a time you made a mistake, what the consequences were, and what you did to try to make things better.
• Tell about a problem you solved for your company.
5. Prepare a few questions to ask your interviewer as well. You might want to ask about current projects in the team or department you would be in or any job details or benefits that weren't clearly spelled out.
You should have at least a couple of questions to show that you're actively thinking about the job-- but avoid sounding like you're only interested in what you can get, not what you can contribute.
6. Now get one (or several, if possible) friends or family members to do practice interviews with you. (They should think of at least a couple of questions you have not suggested to them.) The more you can practice with unexpected questions and different question wording, the better prepared you will be. 
But what if you don't have English-speaking friends with time to help you practice?

EnglishHints' Workshop: Practice for Job Interviews in English 

Several times a year (or when several people ask for it), I can offer a one and one-half-hour workshop for that very purpose.
I'll give you a few suggestions for important things to understand about interviews in English and some questions to think about beforehand. Most important: you'll practice answering questions with one or more partners (and/or with me.)
If you're nervous because your job advancement may depend on an interview in English, this is the training you need! You'll learn 
The small change in perspective that leads to more confidence 
The secret to better interview results
The best way to prepare for unexpected questions
What to do if you can't think of an answer
How experienced interviewees handle questions about past mistakes and failures
What NEVER to do when answering difficult questions
How to practice more at home 
You'll practice (with one or more partners)
Asking and answering common interview questions
Answering the more difficult behavioral questions that many interviewers like 
Keeping your answers brief while still including all the necessary information (There's a simple formula that can help.)
You'll also have a chance to evaluate your interview skills and note what you did well and what could be improved with more practice.
You and your partner(s) can highlight what each one did well—and learn from each other. We'll also discuss the interview process as a group and I'll answer any questions (in person, or, if necessary, after the workshop.)
It will probably cost $47. (If you later decide to buy my course, 30 Days to Better Professional English, you can get a coupon for a big discount on it. Just email me then.) 
Interested in the next Interview Workshop?
This Interview Workshop is not available at this time. I hope to offer it again, probably in the spring of 2023.
If you're interested in this workshop before I post the next dates for it, please let me know if the form below. I may be able to offer it sooner-- or I may be able to help with extra resources or suggestions. 
(I'm also glad to offer it as an individual lesson, practicing for your exact needs directly with me. That would be more somewhat expensive. I can send the details if you're interested.)
Home > Advanced Communication Skills in English > Preparing for a Job Interview in English