Courses to Master English Test Vocabulary 
Do you worry if you know enough English test vocabulary for the IELTS or TOEFL exam?
Those exams require you to understand and use so much English vocabulary! It's 25% of your IELTS writing and speaking scores, and at least as important for the reading and listening tests.  The TOEFL requires even more academic vocabulary.

A few unknown words-- especially in the test instructions or questions-- can leave you unsure about a whole section.

Are you wondering how you're ever going to learn all you need for the test-- or even where to start?
English Test Vocabulary Courses Can Help You!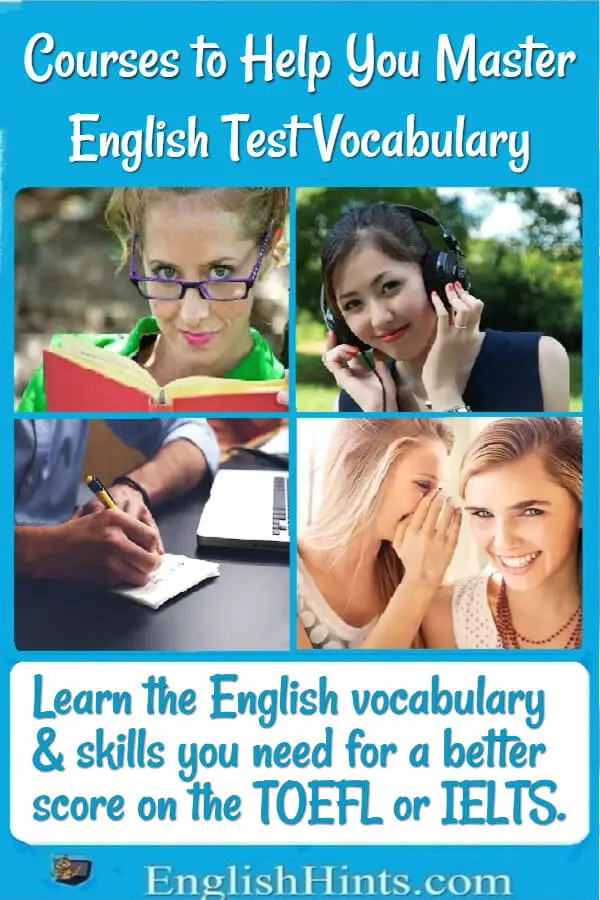 Learn the vocabulary and skills you need to succeed on the IELTS or TOEFL exam, and in the English-speaking world.
In these short online courses you can master key English test vocabulary.
You'll also learn study techniques so you can keep increasing your vocabulary in the most effective way.
Take just the courses you need in order to be prepared by your test date.
Jump straight to info on:
Academic Vocabulary in Minutes a Day
This new course teaches the most useful vocabulary and skills to prepare for the university & the TOEFL or IELTS exams-- in 20-30 minutes a day.
Learn more (or sign up) on the Academic Vocabulary Lessons page. 
Free Intro: 3 Strategies for the TOEFL & IELTS  Exams 
Sign up for a short free Introduction: 3 Strategies for the TOEFL & IELTS exams.
Learn what you need to prepare for the TOEFL & IELTS:
   > the different parts of the TOEFL & IELTS exams, what you need to do and how much time you will be allowed
   > what TOEFL & IELTS examiners are looking for when they mark your exam
   > your strong and weak areas right now, and the next steps to take to be ready for your test
   > useful free websites to practice the academic vocabulary and skills you need
Clues to the TOEFL Reading Test
How can you solve the "mystery" of the TOEFL Reading Test and get the score you need?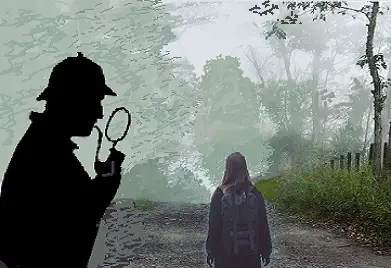 Study and practice different types of TOEFL reading test questions, a well as skills that can help you answer test questions more quickly and confidently. 
For more details, see Clues to the TOEFL Reading Test Course.
Prefixes, Suffixes, and Roots: Build Your Vocabulary Fast
An excellent way to increase your vocabulary quickly is by taking the Prefixes, Suffixes, and Roots course.
Its six short lessons will give you the basics for understanding hundreds of English words. In addition, bonus materials will help you learn many more words as you have time to study them.
Also from EnglishHints
In addition to several courses on academic vocabulary for exams, university study, or professional work, I can provide individual tutoring combined with self-study course work based on your needs and plans.  Contact me at the bottom of this page for more information and a consultation to develop a personal study plan.
There is also an inexpensive course on English Vowel Sounds and Spellings. See the bottom of the page on English Vowels for more information.
---
Step by Step Help
If you have difficulty understanding something or need more help or more practice materials, just ask , and I will do my best to provide it. I want you to see your vocabulary-- and your confidence-- take off!

Interested in More than One Course?
There's a 20% or more discount for taking a second or third course-- or for two people if you have a friend who wants to take a course or two with you (which is great support!)
Just contact me and I will make sure you get the discount.
What Kind of Study Materials
Are Included?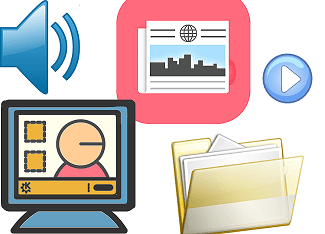 • a video slideshow overview, as well as individual lesson explanations
• pdf downloads of reading materials, practice worksheets, crossword puzzles, and vocabulary exercises
• quizzes and tests to show what you have learned and find the areas that need more work
• and a Facebook Group to talk about what you're learning, ask questions (I'll check it often, and other students may also provide helpful answers), and find Study Buddies and accountability
Who these Courses Are for
(& who they're not for)
These courses are designed for people who have already studied some English but need to learn more vocabulary, comprehension, and writing skills for a major exam like the IELTS or TOEFL, to prepare for English university studies, or to get the job they want.
Have you tried to study English vocabulary on your own but not known what to focus on or which vocabulary is most important? This course can help you. Do you have trouble remembering the words you learn, or making the progress you need? It can help you with that too.
If you are just beginning to learn English and cannot read it, speak in full sentences, or use the past tense yet, these courses will not help you yet. Take a good beginning English course or watch some of the excellent free videos for beginners. 
If you plan to take the general version of the IELTS exam rather than the academic version, these courses will not help much either. They concentrate on the more advanced and academic vocabulary and skills needed by the TOEFL or academic IELTS exam.
If you are looking for an easy way to learn thousands of words in a few weeks, you'll be disappointed. (I'd love to hear if you find a way to do that!)
However, if you want strategies to help you really learn (so that you can understand, use, and remember) essential vocabulary, these courses ARE for you. If you want guidance in what words to study first, useful reading materials to provide context and show you the different ways these words can be used, and lots of practice to reinforce them in your memory, you will find all that, and more.
Sign up now for the free introductory course. There is no obligation to take any other courses, but you will have the opportunity to take any others you need, with a discount to help, at the end of this course.
---
Sign up for the Academic Vocabulary course-- just $37.
Or buy the Clues to the TOEFL Reading Test course for $39. (There's a free trial lesson first, if you want to try it before you decide.)
Or the $39 Prefixes, Suffixes, and Roots course:
Guarantee
Your satisfaction guaranteed. Please contact me if you have any problems or questions. If you are not happy with this course, please contact me for a full refund (or a credit plus 10% on a different course if you prefer.)
If you find the course helpful please take a moment to  let me know and to share it. Thanks!
Do you have any questions or suggestions? Share them below, and I'll get back to you as soon as possible.