Free Webinar:
3 Keys to Vocabulary for the TOEFL & IELTS 
This free webinar can help you learn three important vocabulary skills you need as you prepare for the TOEFL or IELTS exam. (It's  over now, but you can find links on this page  to pages that can teach you much of the important information.)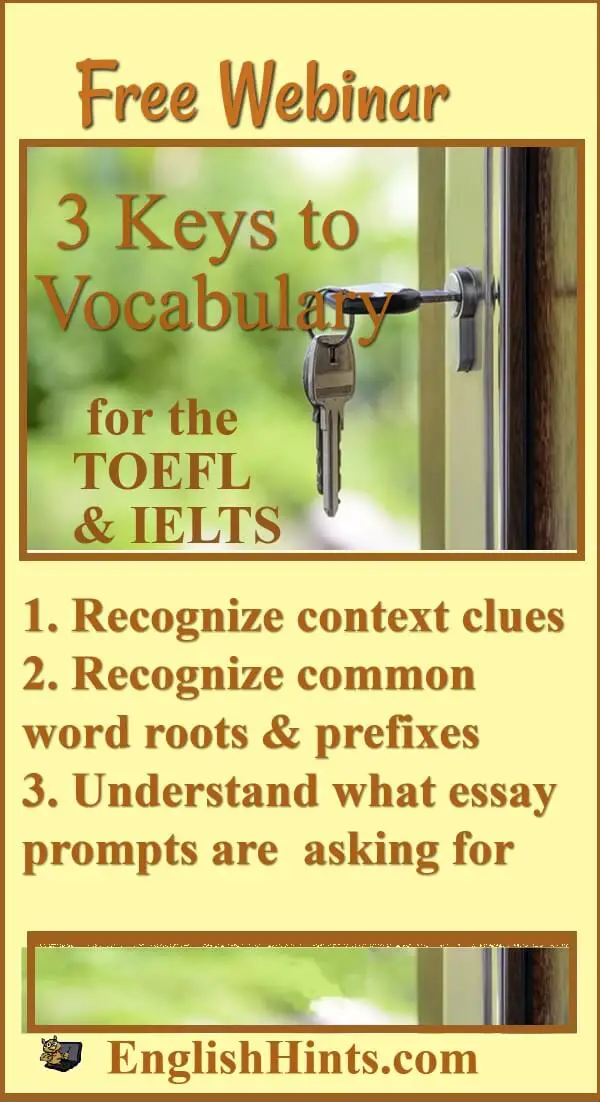 (These skills will also serve you well during university studies-- and whenever you need to read or write professionally in English.)

The best single way to increase your English reading skills (and vocabulary, especially the academic vocabulary needed for the TOEFL and IELTS exams), is by reading a lot in English.
Choose subjects that interest you, read a little every day, make notes on new words, and try using them.
15 minutes to 1/2 hour of reading a day adds up to 22-45 hours in 3 months...
If you really want a vocabulary or reading skills boost, there are strategies you can learn to supercharge your efforts. You can find them throughout this website. (See especially the Roots & Affixes section, ESL Reading, and the Reading Skills page.)
Maybe you have noticed, though, that it's not so easy to get started with some of them.
This Free Webinar Can Help.
In the webinar we'll look quickly at three vocabulary skills that can make a difference in your TOEFL or (academic) IELTS scores, since both rely heavily on your understanding and use of academic vocabulary.  
What You'll Learn 
1. to recognize context clues
2. to recognize common word roots & prefixes
3. to understand what essay prompts are  asking for
4. to use other resources to learn more academic vocabulary and exam skills
Learn the Tips Given in the Webinar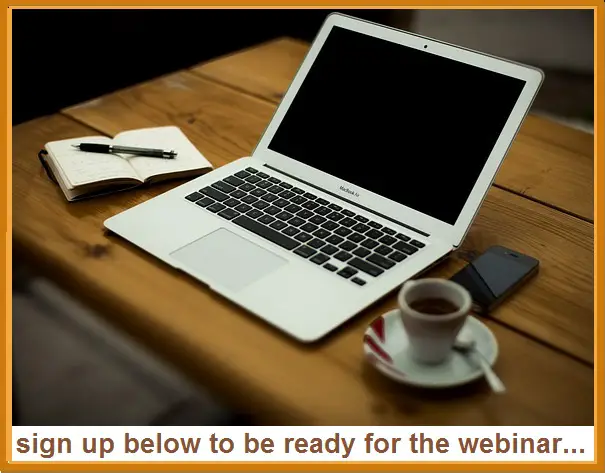 This webinar was on Tuesday Jan. 23, 2018 at 8 AM California time (to make it easier for as many as possible to attend 'live.') 
You can still download a pdf of worksheets to answer the practice questions we talked about during the webinar.
You can also learn and practice many of the skills taught in the webinar using the inexpensive Introduction to Affixes packet on Roots, Prefixes, & Suffixes: Worksheets and on Writing Test Vocabulary: Understand Test Prompts.
Take Your Academic Vocabulary to the Next Level
If you would like more guided practice in learning academic English vocabulary to prepare for your big exam (and for university study), there will also be opportunity to sign up for a short course. Academic Vocabulary in Minutes a Day provides short daily exercises that can multiply your English comprehension and word power. (See Academic Vocabulary Lessons for more information and a link to the course.)
Home> Learn English Vocabulary> Free Webinar