# 63, Practice Irregular Pasts with the Snow Queen +, May 3, 2016



The best way to practice irregular pasts and other grammar points is in context—-starting with natural conversations or reading materials. There are many possibilities for such practice on EnglishHints. (see Grammar Worksheets for a free reading on American history and other gapfill worksheets as well as an inexpensive packets of materials.)

EnglishHints also has matching and other games for past tense practice: Concentration Games or Printable ESL Classroom Games.

I'm adding a new practice packet, using a shortened, simplified version I made of Hans Christian Andersen's Snow Queen to practice 50 common irregular verbs.

This classic quest tale was the original inspiration for Disney's Frozen, and is a celebration of the power of innocence, perseverance, and love. Andersen's descriptions , characters, and unexpected plot twists make it a real classic.

I think it would appeal not only to children, but to many adult English students (especially if they compare it to similar stories in their own cultures— one of the suggested extension activities—- or if they have children.)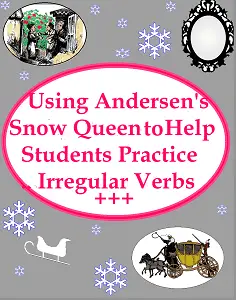 I will probably be offering it on EnglishHints (and TeachersPayTeachers and other teacher sites) for around $5-6.

However, I have been looking for a bonus to show appreciation to you for your interest in this newsletter and in EnglishHints, so I am offering it as a free download to English Detective subscribers only.

It's a 39-page pdf: 2 pages of teaching suggestions, discussion questions, and follow-up activities, 2 pages each for the seven stories within the Snow Queen, and 7 gapfill worksheets practicing up to 12 new (plus review)irregular verbs with selections from each reading.

There are also 4 optional alternative worksheets for intermediate students who have begun to use the perfect tenses, practicing the past perfect forms of some of these verbs as used in the story. (The last half of the pdf is answer sheets for the worksheets.)

Download the Snow Queen and past tense practice pdf here.

P.S. If you do look at it or use it, I would really appreciate feedback—any comments, positive or negative. You can just "reply" to this newsletter. Thanks!

A note if you get gmail: Have you missed any issues of English Detective? if you find English Detective in your Promotions box, you can move it to your Primary box (if you want) by clicking on it and dragging it there, then clicking Yes when asked if you want to always get it in the Primary box.

If you are not already getting English Detective, you can subscribe by completing the form here. (It's free!) Also, you can reach me by mail at 1752 Driftwood Drive, El Centro, CA 92243, USA.