English Grammar Worksheets

These English grammar worksheets provide a variety of practice exercises with verb tenses, sentence structures, parts of speech, and common errors.
Most practice is in context, using conversations or short paragraphs rather than bare lists to learn. Worksheet packets also include games and other activities to learn and review the more difficult structures. (See also Printable ESL Classroom Games.)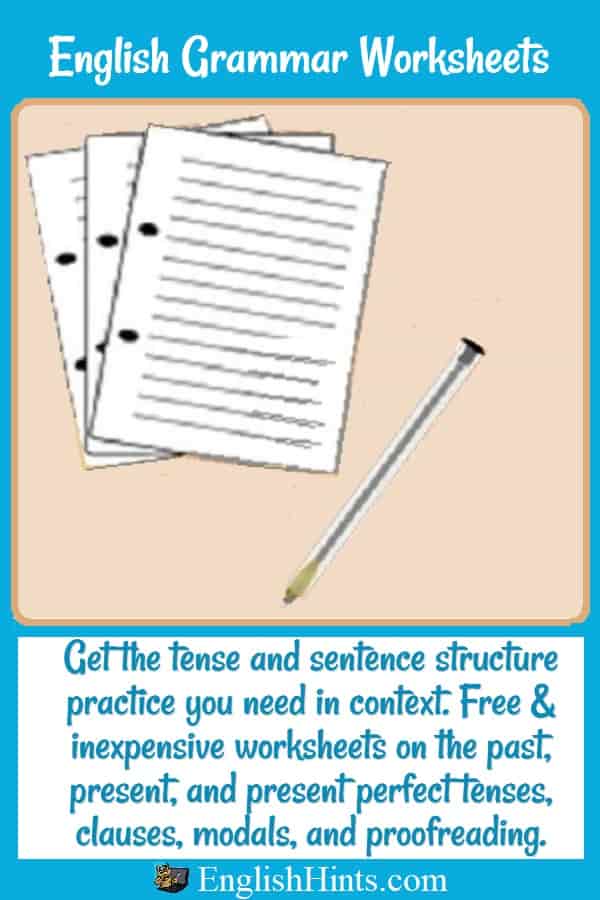 For explanations of the grammar involved, see also English Grammar Lessons and English Verb Tenses. For similar practice online, see Grammar Practice.
The Individual English grammar worksheets on this page are all free, as is the Revision and Proofreading Checklist.
You can view and print them online, or you can download them as pdfs by right-clicking and choosing "save link as" (or the related message on your browser.)
The past tense packet offers many more worksheets as well as game suggestions and materials.
You will need Adobe or another pdf reader to download these pdfs. If you do not have Adobe Reader you can download it, free, here.
(You can also just read the free ones on the Internet, if you don't want to download them. Just left click instead of right-clicking the link.)
Revision & Proofreading Checklist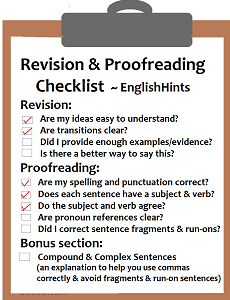 This is a three-page checklist asking students to review and revise their writing for clarity and completeness, then proofread for spelling, capitalization, punctuation, and grammar errors.
The third (optional) page explains compound and complex sentences, to help students recognize and eliminate sentence fragments, run-ons, and some common errors with commas. 
It's written for Intermediate up English language learners from grade 6 to adult.
Free Single Verb Tense Worksheets
See also Games to Practice the Past Tense in Printable ESL Classroom Games. It includes many more memory games, as well as the two in the packet below, and also some sentence scrambles and other ways to play with irregular past tense verbs in English.
Past Tense Verb Worksheet Packet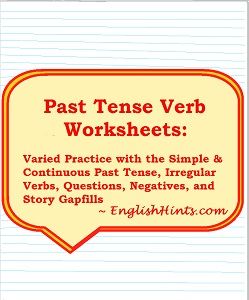 This 18-page packet (plus answer keys, memory game back options, and bingo template- 30 pages total) offers students multiple ways to practice the past tense of regular and the most common irregular verbs. Much of the practice is in context (conversations or reading.)
Most of the worksheets are simple enough for students to use on their own for homework or extra practice (or to give to early finishers or to leave for a sub.) Most games are for the whole class, but the memory cards can be used in a center, for a few early finishers or even as a solitaire activity
The packet includes worksheets and game ideas to learn and practice regular and irregular verbs in the simple and continuous past tenses. Over 50 of the most common irregular past-tense verbs are practiced in sentences and again as gap-fills in longer text-- most of them at least three to four times. 
Contents:
Teaching Suggestions and Game Ideas (20 Questions, Bingo, Memory, and Liar) 
32 Memory Game cards to practice 16 common irregular past tense verbs (These can also be glued together as flash cards.)
2 optional colored and designed backs for the memory cards
an optional bingo template (or have students fold and make their own per directions in the Teaching Suggestions)
The Simple Past Tense: Regular Verbs (examples and practice)
Practice 'to be' in the past & the Past Continuous Tense (including questions and negatives)
20 Very Common Irregular Past Tense Verbs (practice in sentences)
More Simple Past Tense Questions and Answers
Past Tense Verbs ending in 'Aught' and 'Ought' 
Verbs that Don't Change from Present to Past (& Practice Irregular Verbs for Accidents)
20 More Common Irregular Verbs (with practice) 
Review Irregular Verbs: American History (for a preview, see individual pdf in Verb Tense Worksheets above) 
Review the Top 50 Irregular Verbs with Stories (like the pdf above in Verb Tenses but without the list of 50 irregulars)
Answer Keys 
On sale for $5.00.Download the Past Tense Verb Worksheets packet now by clicking the buttons below.
Your satisfaction guaranteed. Please contact me if you have any problems or questions. If you are not happy with any worksheet, please contact me for a full refund (or a credit plus 10% on another packet if you prefer.)
If you find the worksheet helpful please take a moment to share that information with others (in Facebook comments below or by contacting me.)
Other English Grammar Worksheets
Again, you can practice much of this (and more that I don't yet have in pdfs) at Grammar Practice.
Home> ESL Worksheets> English Grammar Worksheets.
Didn't find what you needed? Explain what you want in the search box below. (For example, cognates, past tense practice, or 'get along with.') Click to see the related pages on EnglishHints.