Quick Tips to Speak Better English
Do you need to improve your English without studying for hours? Would it help to get quick tips to speak better English, along with related practice activities, every week or so?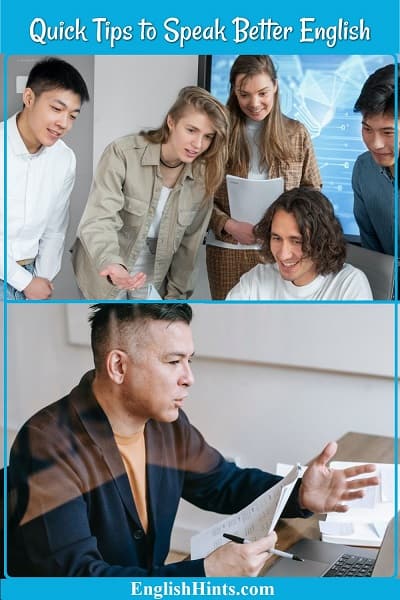 EnglishHints is now offering a newsletter to help you keep improving your English even when you don't have much time.
For years our free English Detective newsletter has shared interesting articles and talks so you could keep building your vocabulary month by month. (You can find links to old issues here or here, if you'd like to read some of them.)
But many of the professionals I've talked to want more frequent (and briefer!) chances to improve their English. So I'm starting a second, weekly (or almost-weekly) newsletter It will usually arrive on the second, third, and fourth Tuesdays of each month. (I may have a brief review activity first Tuesdays if most subscribers are not also reading English Detective.)
(English Detective goes out on the first Tuesdays. You can subscribe to it too if you'd like to get an email from us every week. It's a little longer-- especially if you decide to read the linked articles, but you can save part of it for later.)
What Will Be in the Quick Tips Newsletter?
Most issues will have a single topic, with a brief explanation of why it matters (and usually how it can help you speak English better) and a practice worksheet or other activity. Many will link to a page on EnglishHints with more information. 
I expect to start with
some idioms you may hear when you work with English speakers,
 some vocabulary (especially when you need to know something about the different connotations or feelings of related words. It's important to know which are appropriate to use in different situations.)
some useful workplace phrases for different purposes,
and probably some tricky pronunciation or grammar points.
I hope if you are interested that you will also suggest words, phrases, or topics you need help with or would like to understand better. Those suggestions can make these tips so much more useful!
Sign up for Quick Tips for Better English
Sign up in the box below. I will never share your email with anyone (except SendInBlue, the company that delivers the emails for me). Of course, you can unsubscribe at any time.
*What's next when you subscribe?
In a few minutes you should get a short email asking you to confirm your subscription. Why? To make sure that no one subscribed your email address without you knowing about it.
If you don't receive the welcome email in the next 20-60 minutes, please check your Spam or Junk folder. If it's not in that folder, there was probably an error in the email address you entered. Please fill out the form and submit it again.
Once you confirm your subscription, you should get an email with a link to the page where you can download your free pdf. I hope you find it helpful!
Sample Tips to Speak Better English
When you sign up for our Quick Tips newsletter, you also can get one or more free short pdf worksheets to try as well. There will be several choices on the download page: practice business idioms, phrasal verbs, or vocabulary with a crossword puzzle. Choose whichever ones interest you.
I just ask that once you receive your first newsletter, you click on "Reply" and tell me if any of them were useful for you-- and if not, what would be. That will help me know what kinds of practice to prioritize for the next Quick Tips.
Home > Advanced Communication Skills in English > Tips to Speak Better English