Greek Roots
Many Greek roots have entered English, both directly (especially in medical and scientific vocabulary) and by way of Latin. Recognizing a few of their common bases (combined with a few prefixes) will increase your reading comprehension. Besides, they're fun!
A large percentage of English words for math, sciences and social sciences (as well as music and other performance arts) come originally from Greek.
There's a list of some very common Greek roots below, followed by more individual words with Greek origins,
Common Greek Roots for English Words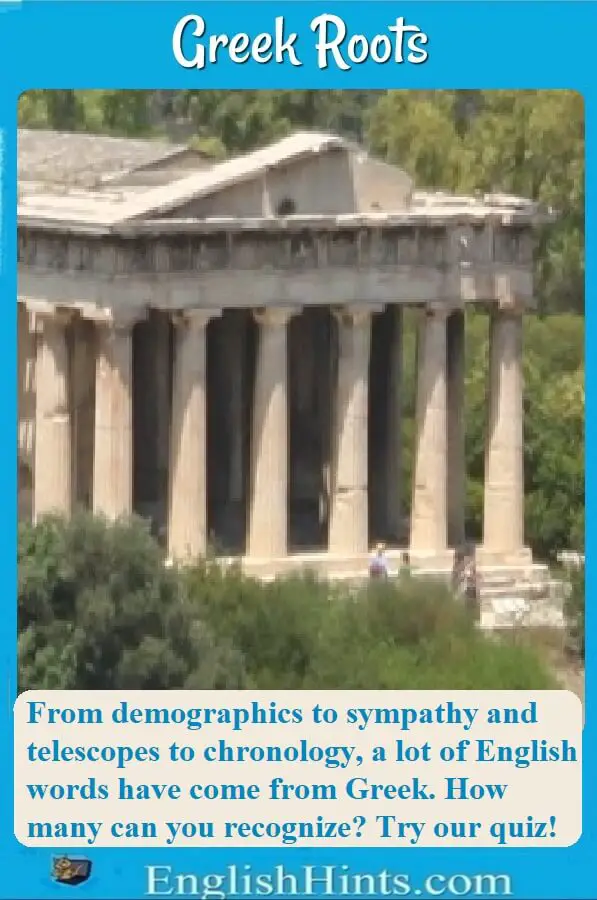 Here's a list of some of the most common Greek roots, in their usual combining form. (Most end in 'o.' You just drop the 'o' if the following syllable begins in a vowel.) 
anthropo- man, human: anthropology, anthropomorphic, philanthropy
bio- life: antibiotic, biology, biosphere, probiotic, symbiosis
 chrono- time: chronic, chronology, chronometer
 cris, crit- judge or decide: crisis, criteria (standards to use to judge something), critical, hypocrisy
 geo- earth: geologist, geometry,  geographic
 graph (from graphein- to write or draw, & graphia- a description of): calligraphy, demographic, digraph, graph, (a chart showing information in the form of a picture), graphic, photograph
hydro- water: dehydrate, hydraulic, hydroelectric, hydrogen, hydrophobia, hydrothermal
 logo- (often logy- study of, from logia- a speaking about, logos- word or thought): biological, cardiology, dermatologist, ecology, ideology, logic, mythology, psychological, theological
lexis- word: lexical, lexicography (dictionary writing)
 metron- measure: metric, speedometer, thermometer
 morpho- form or shape: metamorphosis,  morphology
patho- feeling

, 

suffering, disease: antipathy, apathetic, empathy, pathogen, pathological, sympathetic
 philo- love (of): philanthropy, philosophical, technophile
 phobia- fear: agoraphobia, hydrophobia, technophobia
phone- sound: phonics, phonological, phonograph, symphony, telephone
 photo- light: photography, photosynthesis
 polis- city: metropolis, policy, political, politician
 psych- (via Latin)-soul, mind: psychiatrist, psychic, psychology
 scope- to look at: microscopic, scope (now the breadth and size of a project or vision, enough space to work), stethoscope, telescope
 sphere- ball: atmosphere, hemisphere, sphere, spherical
 techno- art, skill: technique, technology
 tele- far: telegram, telegraph, telephoto, telescope
 thermo- hot: thermal, thermodynamic, thermostat
thesis (plural theses) - a proposition (idea proposed for debate): antithesis, hypothesis, synthesis, thesis
More English Words from Greek Roots
Here are some more English words and their relatives that came from Greek (often via Latin):
anatomy
character
chorus (& choir)
climate
climax
cone
cube
economics
harmony
melody
orchestra
physiology
surgery
theater
theme
theory
Practice with Greek Roots
Two Greek suffixes and a few prefixes that you might need:
Instructions: Choose the best answer to each question, then press the right arrow to move to the next question.
1. If a person really dislikes you their feeling for you is:

  apathy
  antipathy
  empathy
  sympathy

2. We should make decisions based on clear, definite

  calligraphy
  criteria
  hypotheses
  techniques

3. Someone who is logical

  writes well
  feels deeply
  thinks clearly
  studies the mind intensely

4. The northern hemisphere is

  north of Europe in geography books
  a geographic line on the globe
  the northern half of the earth
  the Americas

5. An idea someone proposes is a (or an)

  antithesis
  logic
  synthetic
  thesis

6. We measure heat with a

  chronometer
  stethoscope
  thermometer
  thermostat

7. Someone who studies disease is a

  pathetic
  pathologist
  psychiatrist
  psychologist

8. A technophobe

  fears technology
  studies technology
  loves technology
  works with technology

9. Philanthropy is based on

  the study of money
  the love of philosophy
  the love of mankind
  the study of mankind

Symbiosis is

  the whole living world
  a representation of life together with death
  anything that works against life
  two forms of life working together for mutual benefit
Practice these Greek roots more with the Greek and Latin Roots Quiz.
Related Root & Prefix Pages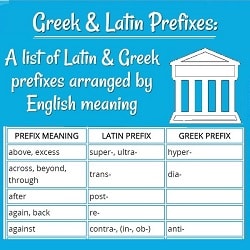 This is a useful list of the English meanings and then the Latin prefixes and Greek prefixes that mean the same thing.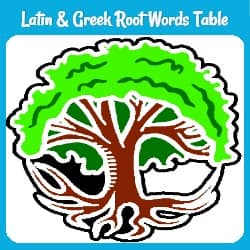 Find the pages to study or practice over 100 root words on EnglishHints. This reference table gives meanings, examples, & links.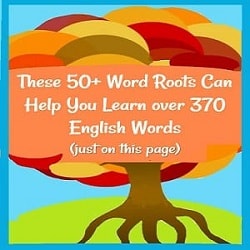 You know words made from these roots. Learn the Latin word roots themselves for a big boost in vocabulary!
See also Medical Prefixes, Medical Suffixes, (both almost all from Greek) & Medical Vocabulary.
Still want more? For stories about unexpected words that come from Greek (as well as some from above), see this article from Babble.
Home> Roots, Prefixes, and Suffixes> Greek Roots.

---
Didn't find what you needed? Explain what you want in the search box below. (For example, cognates, past tense practice, or 'get along with.') Click to see the related pages on EnglishHints.