30+ Medical Prefixes & Roots Worth Learning
These are some of the most common of hundreds of medical prefixes used in hospitals and health care. Add in a few suffixes, and you will have a good foundation in medical terminology.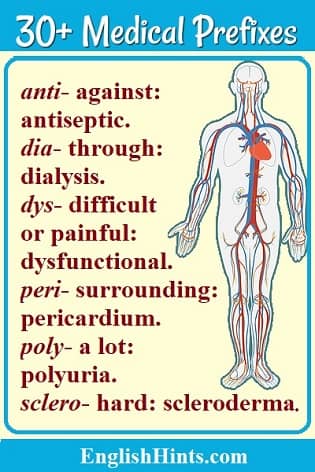 (See Medical Suffixes. It also includes more roots and prefixes worth recognizing, though less important to memorize.) 
Most of these prefixes come from Greek. (The western medical tradition began with Hippocrates and other Greek physicians.)
Other medical words originate in Latin. That's why we have two different names for certain organs.
'Renal insufficiency' means badly-working kidneys, and comes from Latin. Nephritis is kidney inflammation (from Greek).
Pneumo- is the base of the word for lungs in Greek; pulmo- in Latin. We get the English words pneumonia and pulmonary from them.
Many of these prefixes can be used as roots or suffixes as well. (Hemo- or –emia both refer to conditions of the blood; path- and –pathy both refer to illness or suffering.) 
There are two lists of prefixes. The first gives those with general uses. The second list is prefixes that refer to a particular body part or system.
I have written most with an 'o' at the end, for combining with other words, but the 'o' is usually dropped if followed by a vowel. Sometimes there are several related spellings, depending on the sounds that follow.
Look through the lists and try to guess the meanings of the example words. Then try the matching exercise at the bottom of the page.
General Medical Prefixes

a-, an-  without: analgesic, anemia, anesthetic, anorexic, aphasia, aseptic, asymptomatic
anti- against: antibodies, anticoagulant, antidote, antigen, antihistamine, antiseptic, antitoxin
bio-   life: antibiotic, biologic, biopsy
dia-  across, apart,  or through: diabetes, diagnosis, dialysis, diaphragm, diarrhea, diastole
dys- difficult or painful: dysfunctional, dysmenorrhea, dyspnea, dysuria
endo- inside: endemic, endogenous, endometriosis, endoscopy
epi- on, over: epidemic, epinephrine, epithelial
erythro- red: erythema, erythroblast, erythrocytes, erythroderma, erythromysin
hyper- over (or too much): hyperbilirubinemia, hyperplasia, hypersensitive, hyperparathyroidism, hypertension
hypo- under(or too little): hypocalcemia, hypodermic, hypoglycemia, hyponatremia, hypothyroidism, hypoxia
leuko- white: leukemia, leukocytes, leukopenia
mono- one: monoclonal, monocytes, mononucleosis
peri- around, surrounding: pericardium, perinatal, perineum, peripheral
path- disease, suffering (also a suffix): pathogen, pathology
phago- eating (also a suffix): phagocytes, polyphagia
poly- many or a lot: polydipsia, polyneuropathy, polyuria
sclero- hard: atherosclerosis, arteriosclerosis, scleroderma, sclerotic
Prefixes (& Roots) Related to Body Parts & their Functions

arthro- joint: arthralgia, arthritis, arthroscopy
cardio- heart: cardiac, cardiovascular, pericardium (also bradycardia-- an  abnormally slow heart rate, and tachycardia--  a rate that's too fast.)
cyte- cell (see also suffixes): cytology, cytoplasm, cytosis
derm-, dermato- skin: dermatitis, dermatologist, epidermis, hypodermic
gastro- stomach: gastric, gastritis, gastroenterology (study of the stomach & intestines)
hemo, hemato- blood: hematocrit, hematuria, hemoglobin, hemolytic, hemophilia, hemorrhage
hep-, hepato- related to the liver: heparin, hepatic, hepatitis
lympho- lymph: lymphatic, lymphoblastic, lymphoma
myo, myco- related to muscle: myalgia, myelitis, myocardial
neuro- related to nerves: neurological, neuropathy, neurosis
osteo- bone: osteoarthritis, osteomyelitis, osteopenia, osteoporosis
ur(o)- related to the urinary system: dysuria, hematuria, uric, urination, urologist
vaso, vasco, - (blood) vessel: vascular, vasculitis, vasoconstriction, vasodilation, vasospastic 
Practice Medical Prefixes 

Match the meanings on the left with the prefixes in the drop-down menu on the right. The first one is done as an example.

Now that you know the most common medical prefixes, learn a few medical suffixes for common procedures and conditions. With both, you should recognize hundreds of medical terms!
For prefixes in general use in English see List of Prefixes. If you want to know which are Greek and which are Latin, see Greek and Latin Prefixes. It lists most of the same prefixes, but it shows their origins and is alphabetized by their meanings in English.)
Home> Medical English> Medical Prefixes.
---
Didn't find what you needed? Explain what you want in the search box below. (For example, cognates, past tense practice, or 'get along with.') Click to see the related pages on EnglishHints.