Irregular Verb Memory Game 2
Play irregular verb memory game 2 to stretch your memory and review the past tense forms of eat, make, take, see, say, and tell.
To play irregular verb memory game 2 from a small-screen mobile phone, try the mobile version of this page. It isn't ideal-- you'll have to scroll a little to play, but the 2x6 grid of cards to turn over should fit in your window. (You may be able to use this 4x3 grid on some phones in landscape mode, turning the window to the side.)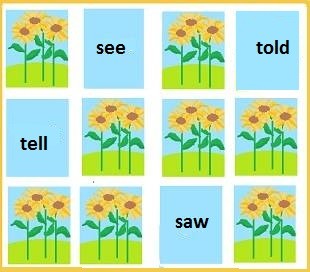 memory game demo
If you're playing with a friend, see who can win the most pairs. By yourself, see how quickly you can match all the present tense verbs with their past tense.. Your speed should go up if you play it again. (Card locations will be different every game. Memorize meanings, not locations!)
Instructions: Your goal is to turn over 2 cards that belong together: a present tense verb and its past. There are twelve cards in 3 rows. Players (if you are playing with someone) take turns choosing two cards to turn over. If the cards match, they will stay face up, and the player who chose them wins that pair. 
If they do not match, they will turn back over. (Try to remember their locations. If you find a match for one of them later, you want to be able to find it again.) Continue to turn over two cards at a time until all have been matched. The player with the most matches wins.
If you are playing alone, you win if you can beat your previous time. It's trickier than it sounds!
Click to find the matching cards: