Free Printable Worksheets 
for English Practice 
Most of the free printable worksheets on EnglishHints.com can be used online or downloaded for use whenever you want. This page includes a list of links to the downloadable pdf versions. (Many of these ESL printables are also available on the related pages on English Hints.com.)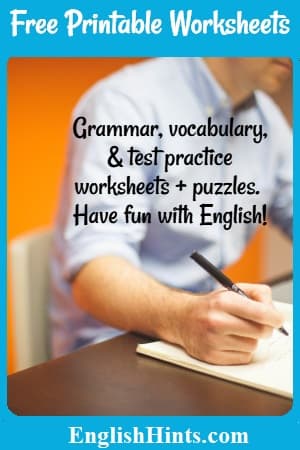 You may use these ESL printables freely at home or in an ESL classroom as long as you keep the copyright notice on the bottom of each page.
You may not sell these or otherwise use them commercially or on another website without explicit permission, though you may link to the pages.
I hope you find these free printable worksheets helpful. If you have any comments or suggestions for more worksheets, please contact me. 
You will need Adobe Reader (the latest version is best) installed on your computer in order to download or print these pdfs. It is free, and simple to install. You can download Adobe Reader here .(A new window will open so you can download it without leaving this page.)

If you want to open the file in your browser window, just click on the link for each pdf. (This will not work on some browsers.) If you want to download the file to view later, then right-click on the link and choose "Save Target As," "Save Link as" or "Save File As." Then select the place on your computer where you want to save the file.
When you are ready to use it, locate the place on your computer where you saved it, and double click to open it. To print, open the file, and choose the printer button from the Adobe menu at the top of the page. (You can also adjust the size of the print, to make the page easier to read, on that menu.)
Vocabulary Improvement Worksheets

Free Printable Grammar Worksheets

pdf WS Downloads (with answers)
See the 2nd Wordsearch Puzzles section below for word puzzle practice with irregular past tense verbs and past participles.
Reading, Listening, & Test Practice Worksheets

(The free printable worksheets listed below are all intermediate level or above. They're also listed on Listening and Reading Comprehension Exercises with a little more information about each. )
ESL Printable Puzzles

(These and other newer puzzles are also on the Printable Crossword Puzzles and Free Wordsearch Puzzles pages.)
Word Search pdf Downloads: Past Tense Verb Practice
Word Search Past Tense Verb Answers
Related Vocabulary & Grammar Practice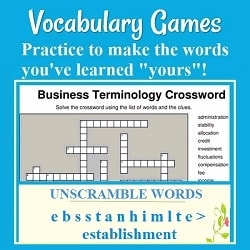 Vocabulary Games explains the value of games for reviewing    vocabulary, as well as linking to over 40 matching and unscramble games and pages with even more crossword & other  puzzles.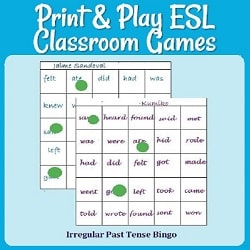 Games are so useful in ESL classes! Get free printable puzzles, vocabulary matching games, and inexpensive packets of games to practice irregular verbs.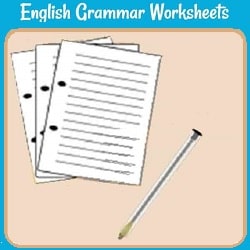 Pdfs with grammar games &  exercises for verb tenses (especially irregular past tense verbs), practice with sentence structure, etc.
Home> ESL Worksheets> Free Printable Worksheets for ESL Teachers and Students.

Are there other free ESL printable worksheets you are looking for? Fill out the form below to let me know!

---
Didn't find what you needed? Explain what you want in the search box below. (For example, cognates, past tense practice, or 'get along with.') Click to see the related pages on EnglishHints.